How to Care for Your 1.67 or 1.74 High Index Lenses
Cell phones aren't the only consumer products that are thinner and lighter. High prescription glasses have also achieved greater function with less bulk and material. Like our shrinking cell phones, the high ind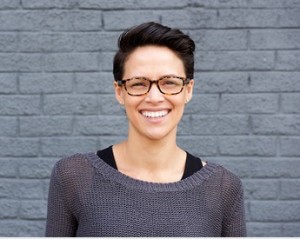 ex lenses used in high prescription glasses are possible because of advanced material science and better design. Improved lens materials that bend light better than ordinary glass and plastics means that thin lenses can now do what used to require thick and heavy lenses. Better design in the form of aspheric lenses has also contributed to thinner and lighter lenses.
Like your smart phone, you have more to lose if your 1.67 or 1.74 high index lenses ever get damaged. This damage typically occurs as scratches on the lens surface as the result of improper usage or improper cleaning. Once formed, a scratch doesn't go away. Over time, scratches build up to the point where they seriously impede your vision. Scratched lenses contribute to eye strain and cause unwanted glare while driving when the sun is low in the sky and at night.
To increase the useful life of your high index lenses, use these three important care suggestions:
Get a Scratch Resistant Coating
If your high index lens is made from a non-glass material, get a scratch resistant coating. While scratch resistant isn't the same as scratch proof, the coating will not scratch as easily as the lens material beneath and will otherwise reduce the severity of scratching in general. A scratch resistant coating saves money in the long-term because you will require fewer lens replacements.
Dirt, dust, and other abrasives that statically cling to the lenses of your glasses can cause scratching if you should ever wipe them off with your fingers or a dry tissue or cloth. You can avoid this by first rinsing them under warm tap water. Then apply one drop of plain dish soap (with no skin softeners or other additives) to the lenses using your finger and thumb tips. Rinse again with warm water and then dry with a clean microfiber cloth meant for eyeglass cleaning.
Never use paper towels, napkins, tissue paper, or any fabric with which you are unfamiliar. These and especially paper towels contain abrasives. Don't use window cleaner, toothpaste, or vinegar as a soap. Avoid anything acidic because they may etch away your lens protective coatings. Avoid touching the cleaned lenses directly with your skin because this will produce smudging from skin oils.
When you're away from home, use individually packaged lens wipes that are specifically meant for eyeglass cleaning.
Minimize Lens Damage
We use the word minimize because accidents can happen, especially over the time span of years. Scratching and scuffing occurs from dropping your glasses or placing them lens-down on abrasive or dirty surfaces. Leaving them unattended in busy areas of the home risks damage from the activity of people and pets.
Lenses with an index higher than 1.74 are made from high index glass. While glass is scratch resistant, it is also brittle and may crack when dropped. Regardless of the lens material, dropping your glasses on hard surfaces such as concrete or asphalt will most likely cause damage of some kind.
Avoid dropping your glasses by:
Never placing your glasses in your shirt pocket. If you should ever bend over such as when tying your shoes, the glasses will fall out. There is also the danger of losing them when this happens. In addition, pocket lint and fibers will cling to the lenses.
Using both hands when removing your glasses. Never multitask when removing glasses. Stop what you're doing and remove the glasses deliberately with both hands.
Using a glasses case. Whenever you take off your glasses, their destination should automatically be its case. If your glasses case isn't available, fold the glasses and lay the folded side down. That is, the bare lens side should face up.
Removing your glasses before engaging in any activity that can knock them off or otherwise damage them.
Finally, never expose your glasses to extreme temperatures. For example, your car can get extremely hot in the summer, especially the top of the dashboard. If you have questions about the proper care of your high index glasses, or need answers about selecting the right glasses for your particular needs, please contact us.