High Index 1.67 Lenses in RX Plastic Wraparound Safety Glasses
When a person thinks of safety glasses, they think of the cheap, large, and ugly type, typically found in high school shop class. The #RX-1205 (RX) plastic wraparound safety glasses from RX-Safety are much better than those. The best part, for those who need prescription lenses, is these plastic wraparound safety glasses come with 1.67 high index lenses .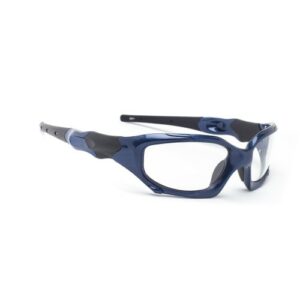 Situations Where Eye Safety Matters
These glasses are basically for active people, whether they're at work or play. There are many situations where wraparound glasses with fairly large lenses, will help protect the eyes from projectiles, the ground, the sun, fluids, or any number of things.
In work environments, these glasses would be perfect for: mowing the lawn, mechanic work, cutting wood in the shop, car wash, house painting, roofing, construction, plumbing, HVAC, and any other jobs where a person works with their hands.
In play environments these glasses would be perfect for: rock climbing, kayaking, sports, paintball, hunting, fishing, skiing, roller skating, skateboarding, and more.
The RX wraparound frames with 1.67 high index lenses are basically a heavy-duty pair of sunglasses made for difficult environments. They are well-made, sporty, lightweight, and comfortable – all important for people with bad vision who need safety glasses for work or play.
Additional Features and Options
When buying wholesale at Rx-Safety, you'll not only get great prices, but also dozens of options and features to choose from. Choose between two colors for the frame: black and blue. There are 4 lens options and 4 lens material options (including 1.67 high index plastic). There are 13 lens colors, 9 different extra lens coatings, and 7 great accessories to choose from.
This is only one type of RX wraparound safety glasses to choose from, as there are a handful of completely different styles as well. The #RX-1205 is the most sporty looking and heavy-duty, yet it's still lightweight and sleek enough to pass as a regular pair of sunglasses.
Here are some of the options to choose from:
Lens Colors:
Polarized Gray
DriveWear
Transition Vantage
Yellow
American Gray G-15 (Classic Sunglass Tint)
Lens Coatings:
Anti Reflective Coating
Scratch Coating
Anti-Fog Treatment
Gold Mirror Coating
Accessories:
Microfiber Cleaning Cloth (black)
Additional Black Retainer Cord
Ultra Soft Lens Wipes (30 count)
Eyeglass Main. Kit and Cleaner
Those are just a few of all the options available, and MyEyewear2go will fit the exact 1.67 high index lenses you need in these frames. We're a full service optical lab, which makes our online store unique, because we sell directly to consumers. Most optical labs sell to retailers, which means consumers are paying more in the end for the same product.
Summary
These 1.67 high index plastic wraparound safety glasses #RX-1205 (RX), are perfect for work and play environments. You can choose from all the many options available to get the exact pair that'll fit you comfortably, protect your eyes, and look good too! Oh, and the prices are great too; with the 1.67 high index lenses, these RX glasses start at only $134.99.
There are other RX wraparound safety glasses to choose from as well here at RX-Safety, which equally have great options and prices. These RX glasses can be an all-in-one pair for your everyday living, or just the heavy-duty pair for those times when you're in difficult environments. The great part about these is they stay on your head, and are made to endure more punishment than regular glasses.
Rx-Safety is located in Middlesex, NJ and has been in business since 2001. We specialize in producing quality prescriptions in the toughest frames, such as wraparound 1.67 high index safety glasses. If you have any questions about purchasing and selecting the right pair of glasses online, please contact us today and we'll be glad to help.