Are Zeiss Eyeglass Lenses Better Than Other Brands?
As a company that has pioneered innovations in eyeglass lenses, coating, technologies, and many other products, Zeiss is generally considered the standard in the eye-wear industry.
Are Other Brands as Good as Zeiss Eyeglass Lenses?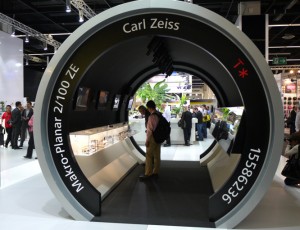 They're known for extraordinary quality in eye-wear, camera, microscope, and binocular lenses – accurately claiming that their products are used by professionals from Nobel Prize-winning scientists to Oscar Award-winning directors – and have produced many "firsts" that helped form the modern eye-wear industry.
Whether or not this makes them "better" than other brands is really a matter of opinion, but the success of the business founded in 1846 by a 30-year-old mechanic named Carl Zeiss is undeniable. Zeiss opened a small store and workshop in Jena, Germany, with the intention of catering to the equipment of the scientists and mathematicians at the University of Jena. Within months his business flourished, as he not only repaired specialized and delicate instruments but also constructed new ones to exact specifications. Here's a timeline of the Zeiss history:
1847 – Zeiss hires an assistant, apprentice, and rents two workrooms as his business expands. In September he produces the first loupe microscopes.
1850s/1860s – Due to a growing reputation for meticulous workmanship, Zeiss enjoys increasing demand from scientists and medical professionals.
1872 – Physicist and mathematician Ernst Abbe creates the first calculated microscope.
1876 – Abbe becomes a partner in the Zeiss optical workshop.
1902 – Zeiss launches the Tessar®, a revolutionary camera lens.
1909 – Zeiss creates Katral, the first aspheric lens.
1912 – Zeiss creates the first modern spectacle lens with Punktel®.
1935 – Zeiss creates Zeiss ET, the first anti-reflection coating for spectacle lenses.
1930s/1950s – In the shadow of World War II and following the partitioning of Germany, Zeiss operates in both East and West Germany.
1962 – Zeiss first crafts optics for U.S. space missions.
1984 – Zeiss releases Gradal® HS, the first progressive lens with Horizontal Symmetry.
1990 – The reforming of Germany allowed Zeiss operations in the East and West to reunite under the umbrella of the Carl Zeiss Foundation.
1996 – The company celebrates its 150th anniversary.
1999 – Zeiss releases Gradal® Top in the United States.
2000 – Zeiss releases Gradal® Individual, the first totally individualized progressive lens.
2001 – Zeiss releases Gradal® Short, the first individualized short corridor progressive.
2003 – Both Gradal® Individual and Gradal® Short are introduced in the United States.
2004 – Zeiss introduces Gradal® Brevity in the United States.
2005 – Zeiss releases Carat Advantage®, with a new super-hydrophobic coating, and forms Carl Zeiss Vision
2006 – Carat Advantage® wins an OLA (Optical Laboratories of America) Award of Excellence for Best in Lens Treatments for its anti-reflective lens coating.
2007 – The GT2® by Zeiss progressive lens wins an OLA Award of Excellence for Best in Lens Design.
2009 – The Zeiss Individual lens wins an OLA Award of Excellence for Best in Lens Design for its fully customized lens design.

Zeiss continues to develop innovations that will define the future of optics. It is this commitment to optical excellence that earns Zeiss its reputation as the premier eyeglass lens manufacturer in the world.