High Index Polarized Prescription Sunglasses
Often it seems there are enough eye-wear options to make your head spin.
What are Polarized High Index Prescription Sunglasses?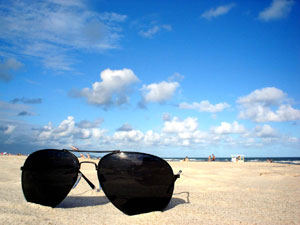 Thousands of frame styles, in plastic, metal, or a combination of both materials. Frame colors and patterns of every variety. Lenses made of a whole range of glass and plastic materials, low or high index. A plethora of optional tints, transition lenses, various coatings, single vision, bifocal, progressive trifocal – it can make an eye-wear purchase an intimidating event, one that people sometimes put off for far longer than they should.
The key is to remember that options are just that: optional accessories. They're designed to provide you with the greatest number of choices, to allow you to pick-and-choose the ones that work best for your individual needs. It may seem like there are too many decisions to make, but you have to admit: it's far better to have too many choices than too few.
Let's examine one combination of various eye-wear elements that's commonly ordered at High Index Lenses – high index polarized prescription sunglasses – and break it down by the various elements that make it so popular.
Prescription Lenses. This is a no-brainer, and very likely the reason you're reading this: you wear prescription eyeglasses. You can't get your sunglasses off-the-rack, and while there are other options, like fitovers or clip-ons, you're probably interested in prescription sunglasses and the affordability you can find online.
High Index Lenses. If your prescription is moderately to extremely strong, you've suffered long enough with thick, heavy, distorting lenses that limit your options in frame style. High index lens material can produce thinner, lighter lenses that fit a wide variety of frames.
Polarization. A polarized coating is designed to block incoming horizontal light rays…the kind that strike the eye most keenly and produce blinding glare. Polarized lenses will improve contrast, visual acuity, and effectively eliminate hazardous and annoying reflections.

See? That wasn't so bad – just three distinct choices from the array of available options, and we've assembled a complete eye-wear system custom-designed to handle a number of individualized vision needs. Don't let all those choices scare you. Simply find the ones that benefit you the most and combine them into the ultimate pair of personalized sunglasses.