Do I Need Thin Lenses?
Hearing all the hype about high index, and wondering if you need thin lenses?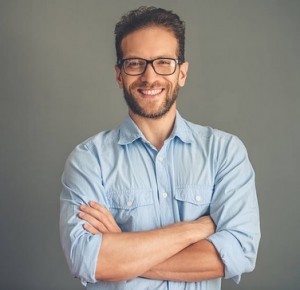 Are Thin Lenses for Me?
Thin lenses are generally made of high index lens material, and most prescription glasses wearers with strong prescriptions have high index glasses. If you've recently been pressured towards getting high index lens material by an eye doctor or other optical professional and are wondering what to do, we have some answers.
First of all, if you're getting prescription glasses, there's usually no "required" lens material. Almost all prescription glasses wearers are welcome to choose between a variety of materials with various characteristics to make each uniquely suited to specific types of wearers. There are, however, a few exceptions.
People with extremely high prescriptions, for one, will be best served by high index lenses. This includes people with prescriptions above +8.00 and below -10.00. Others with prescriptions that aren't quite this strong will still often want or be better off with high index lenses, but wearers around and above these cutoffs really shouldn't get anything else. The reason? Thickness!
If you're wondering, "Do I need thin lenses?" here are some things to consider:
Most prescription wearers do not 'need' their lenses to be a particular thickness, unless you are ordering prescription safety glasses.
If, however, you have a prescription above +8.00 or below -10.00, it is not a good idea to consider any lens material other than high index. This is because your lenses will be so thick in standard index as to interfere with your vision and the usefulness of your glasses.
Extremely thick lenses have a few downsides that are better off avoided: They cause aberration, where lines and edges blur and colors seem to bleed, they are so heavy that they may not stay on your face well, and they can be so bulky as to make contact with your face, making them unwearable.
Prescription lens wearers with strong prescriptions (even ones not as high as above) should consider high index lenses for their light weight, attractive (and thin) profile, and lack of optical distortion.
If you do not have a prescription above +8.00 or below -10.00, you do not "need" thin lenses.
Most prescription wearers are used to being goaded into hard sells by their optometrist. Do not be fooled by upselling eye professionals. Your lens thickness is a choice that you can make for yourself.

If you're interested in getting prescription lenses in high index, there are many other blog topics on this site that focus on the specific details of high index lenses and which ones are best depending upon your prescription, desired lens options, and other factors. If you have any other questions, please feel free to ask them in the comments section below. We'd love to hear from you. Thanks for reading!