Choosing Options for Your High Index Lenses
If you have a strong prescription for your eyeglasses, you are probably already familiar with the idea of high index lenses, even if you don't know the name.  So, high index lenses, without getting technical, use curvature and material that result in a much thinner lens.  So what kind of options do you want to get with high index lenses?  Let's go over them now so you can be confident you get the glasses you want with the options that will make them the best glasses for you.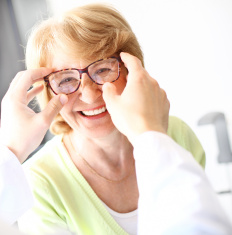 Vision and Material
If you are going with high index glass lenses (not an option most people want as they are heavier even though they don't scratch as easily) then you won't be able to get anything but single vision lenses.  This means no kind of bifocal or progressive lens.
Plastic high index lenses, however, do come in all the variations.  This means that if you need bifocals to read unless you want separate reading and distance glasses you had better get plastic high index.
Scratch Coating
As mentioned above, glass high index lenses are not going to scratch easily, but because of the weight involved and the fact that bifocals and progressives are not available in glass means that most people go with plastic, which is more scratchable.
To reduce the amount of scratching, a scratch coating can be applied to the lens.  This won't make it scratch-proof, but scratch resistant.  You will still need to be careful how you handle your lenses, but the scratch coating definitely result in your lenses being hardier.
Because part of what makes high index lenses thinner is the fact that they have more curvature, they are also more reflective.  Not only will people not be able to see your eyes as easily, but the reflections can be bothersome to your vision as well.
This can all be avoided with an anti-reflective coating.  This coating makes the lenses virtually clear. Though you will be able to see a slight coloration on the lens if you look very hard, everyone will be able to see the real you, and you won't be constantly blinking at your own eyes' reflection and having trouble driving because you can't see with all the reflected headlights.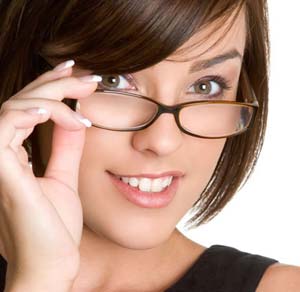 UV protection
While high index lens material by default has UV protection, it is not a bad thing to consider getting a UV coating to add some extra safety.  In this day and age with the sun being so strong, this ain't your grandma's sunshine.  Why chance it?  Get all the sun protection you can.
Another option available on plastic high index lenses is Transitions tinting.  Tired of having to have a separate pair of glasses and sunglasses?  You don't need to have that annoyance!  You can have Transitions lenses in high index plastic.
When you go outside, Transitions will 'transition' (hence the name) to a darker lens.  When you go back inside, they will transition back to a clear lens.  There are a few limitations for Transition lenses that you should be aware of, however.
Transition lenses can be a bit slow to change–Though they are fairly quick to change when you go outside, they are a little slower to change back, so they will remain a bit dark for a time when you go back inside.
Transition lenses do not change inside a car–Because they react to UV light, they will remain clear inside a car or house because the glass is UV blocking.
Summing it up
We've taken you on a tour of the various options available to you for your high index lenses.  We've discussed the types of lenses available, anti-reflective coating, scratch coating, UV coating, and tinting.  We hope that you now have an idea of what options are ideal for your lenses so you will have the best vision possible.