Best Frames for High Index Lenses
Wondering what type of glasses you should be getting your high index lenses in?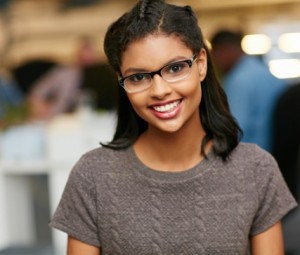 High Index Lenses
High index lenses are available in a variety of frame styles, sizes, and types, but not all. In general, the larger and more curved the frame is, the fewer high index choices you'll have in that frame.
High index lenses are made for regular "street" glasses, meaning that they're made with regular eyeglasses frames in mind. Because of this, their diameter is relatively small. A large wraparound or sunglasses frame generally has very large lens pockets, which can be difficult or impossible to insert the small-diameter high index lenses in.
If you're wondering what the best frames are for high index lenses, here are some guidelines to follow:
Any "flat frame" style glasses that are made for regular everyday prescription glasses generally work for high index lenses.
The flatter your frame and the smaller the lenses, the easier it is to insert high index lenses into the glasses.
Large wraparound or sunglasses style frames generally do not work with high index lenses, although they do work with high index 1.70.
Aviator frames are not a good choice for high index lenses, though wayfarers and cat-eye glasses are generally fine.
There are some cases of larger lenses where the frame is "on the cusp" so to speak, with large lenses that are still small enough for high index lenses. In this case, your pupil distance and lens options will have an impact on whether the frame will work with high index lenses. Contact us to help with this.
Most people shopping for high index lenses and frames are looking for everyday glasses, not specialty prescription glasses such as sunglasses or safety glasses. Because of this, most frames that you'd naturally gravitate towards for everyday prescription glasses should work fine in high index.

If you are unsure about a frame or want some guidance on what the best frames for high index lenses are for you, leave a comment below and we'll be happy to help you. Thanks for reading, and happy shopping!