Why You Should Choose High Index Eyeglasses and When They Are Not Necessary
High index eyeglasses are something you may have heard of at the eye doctor or while checking out eyeglasses online. However, if you haven't had these eyeglasses in the past or have never needed them, you may not know a lot about them or if you should consider high index eyeglasses.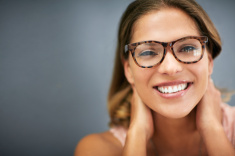 Here are a reasons on why you should choose high index eyeglasses and when they are not necessarily right for you. If you are already reading this however, the benefits outweigh the cons and most likely, you are a high index eyeglasses candidate.
Benefits for Those Who Need Them
Here are the various reasons why some people benefit from high index eyeglasses.
Stronger Prescriptions. Those who have a prescription that is stronger than below +1.00 or above -2.00 (combined sphere and cylinder each eye), then high index eyeglasses are helpful due to their weight and appearance. Even if your prescription is not quite as strong, you will still notice a huge difference in how these eyeglasses fit, look, and feel.
Versatility. What makes high index eyeglasses an excellent choice is their versatility. Not only are they lighter and thinner, they also provide a scratch-resistant lens that is aesthetically pleasing for you and for how others see you. No more thick glasses for those with strong prescriptions when instead, these do the same job yet look thin and don't show magnified eyes like glass lenses.
Sometimes, high index eyeglasses are not necessary and in these specific cases, you might consider another form of lenses for your eyeglasses.
A Weaker Prescription. On the alternate side, a prescription that is below +1.00 or above -2.00 (combined sphere and cylinder each eye) is not going to benefit as much from high index eyeglasses. You may seem some difference but not a huge one and you may not think the investment is worth it.
Light Reflection. If your prescription is not a strong one, keep in mind that high index lenses reflect more light. This means that there may be glare and you will need an anti-reflective coating to minimize that.
Impact Resistance. The last reason that someone may not choose high index eyeglasses if they are looking for eyeglasses that are impact resistant. A polycarbonate material is best for motorcycle riding or an activity that requires the need for impact resistance.
With all that aside, the great thing is that if you are reading this then you probably fit the criteria for high index eyeglasses and they're excellent for those who need them.
Not only do you get a lightweight pair of eyeglasses but they have everything you need to see well yet feel comfortable.
Remember the people you may have seen with very thick glasses? These people have strong prescriptions and have not been lucky enough to choose the high index eyeglasses. Yes, the investment is higher but if you go with this type of eyeglass material, you will not have that same magnified look that tells the world that you can't see very well.
In fact, with high index eyeglasses, no one can tell that you have a strong prescription which means you can choose from a variety of styles and looks that fit your own personal aesthetic.
These eyeglasses also come with a variety of coatings to choose from so that you are able to make the glasses fit whatever need you have. For instance, if you want something that is thin and light and has an anti-reflective coating for blue light (light that comes from electronics) then you have that choice and best of all, you won't look like someone from decades ago with thick, unattractive glasses.