Mirror Coating on my High Index Lenses
You may make the assumption that high index lenses are a whole different animal when compared to standard-material lenses.
High Index Lenses with Mirror Coating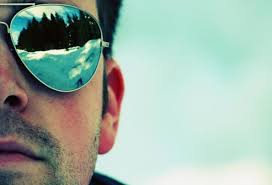 And for the most part, you'd be right. For the trade-off of a higher price and a more reflective surface, you get a lens material that's far lighter and thinner than any standard plastic or glass, and one that produces far less facial distortion or eye magnification if you wear a strong prescription.
But the distinctions end when it comes to optional tints and coatings. With very few exceptions, high index lenses can be ordered with the same options as standard glass, standard plastic, polycarbonate, or Trivex lenses.
This includes mirror coatings in either a blue, silver, gold, or red finish. If you love the look of mirrored sunglasses, there's no reason you have to choose between a mirror finish and the benefits of high index lenses. All of the following high index lens materials are available with blue, silver, gold, or red mirror coatings at RX-Safety:
Thindex Plastic 1.70
High Index Glass 1.80
High Index Glass 1.90
Additionally, the other optional coatings that are available for standard-material lenses can also be laid over high index plastic or placed between layers of high index glass. These include an anti-reflective coating, a scratch resistant coating, ultraviolet (UV) protection, and/or an anti-fog treatment.
The good news doesn't stop there. Not only are mirror finishes and other optional coatings available for high index lenses, but you'll be happy to learn that you won't have to pay a premium to get them. Coating and option prices for high index lenses are exactly the same as standard lenses. A $10 scratch resistant coating is $10, whether you order it for a 1.49 standard plastic lens or a 1.90 high index glass lens. Likewise, any mirror coating for a pair of high index lenses will not cost you one penny more than the standard-material price.

It's worth mentioning that due to the highly reflective surfaces generated by high index lenses, we strongly recommended that an anti-reflective coating be applied to any high index plastic or glass purchase. Beyond that, the options are up to you. Order any of them – including colorful mirror finishes – as you see fit, and enjoy!