How Thin are Super Thin Lenses?
If you're reading this, you're probably familiar with the general benefits of high index lenses.
Super Thin Lenses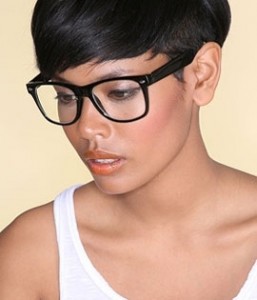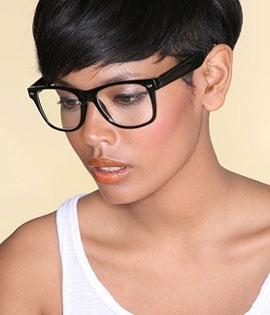 Reduced weight and lens thickness are the primary benefits, and the ones that really tip the scales in favor of high index, especially if you have a relatively high to very high prescription.
In the case of less weight, the advantages are obvious: less slippage, less "nose indentation," and more comfort, especially after periods of extended use and over time. The advantage of a thinner lens may not be as obvious…unless you're in the unenviable position of requiring a very strong prescription. If your prescription is high and you've had eyeglass lenses made of standard glass or plastic, you know the disadvantages of thick lenses all too well.
Thicker lenses create the distortive effect of reducing or magnifying the appearance of your eyes, otherwise known as the "Coke Bottle" or "Tiny Eyes" effect. Thick lenses effectively eliminate rimless, semi-rimless, and other frame styles from your choice selection. And not matter how well you disguise them inside a frame, thick lenses manage to stick out, calling attention to themselves.
Hence the widespread appeal of high index glass or plastic material, especially for those requiring extremely strong prescription lenses. Let's be clear on our terminology: "Thin Lenses" and "Super Thin Lenses" are not technical or literal terms. They relate to the various levels of high index material that is available on the market, and the reduction of lens thickness you can experience as a result of using such materials.
Here are the various levels of low and high index materials used to form eye-wear lenses, with notes, where applicable, on the thickness:
1.50-1.56 index – made of standard material CR39 plastic, Trivex, or polycarbonate plastic. These lenses are typically for general-purpose use. Higher prescriptions will feature extremely thick lenses, and exceedingly high prescriptions may not be available in these index ratings.
1.61-1.67 index – the first upgrade level considered "high index." Lenses produced from material in this range can reduce thickness by up to 30% in comparison to 1.50 lenses.
1.74 index – the flattest and thinnest lens available in plastic. Lenses produced from 1.74 material can reduce thickness by up to 45% in comparison to 1.50 lenses.

Above the 1.74 index rating, only glass lenses are available (up to an index rating of 1.9). Because of the changeover from glass to plastic, lens thickness is not comparable. However, high index glass lenses can be significantly thinner when compared to low index glass lenses.