How to Choose the Best Frames for Your High Index Glasses
When you've decided to invest in a pair of high-index lenses, choosing the right frames is an important task, but getting a new pair of glasses is about a lot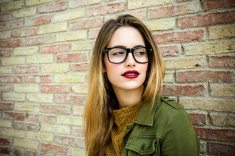 more than just correcting your vision. After all, these are accessories you're likely to be wearing almost every waking moment, and with high index lenses, your options are wider than ever. Unless you're one of the very unusual (and probably wealthy) people with a pair of glasses for every occasion, your most recent pair will come with you to work, out with your friends, in with your family, and on dates with your special someone. You will have the same pair of glasses at fun parties, formal occasions, and everything in between so it's important to choose a pair of frames that will flatter your face and make you happy no matter what circumstances you're wearing them in.
This means careful selection while keeping many important factors in mind. The choice you make in that little room full of frames on display will shape your life for the next few years so you may even want to go in with a checklist that each frame you consider must pass before the selection is complete. Not only do you need a nice pair of frames in your price range, you need some that will look great in any possible future scenario.
Flattering Appearance
Versatile Style
Comfortable Fit
Visual Quality
Suitable for High Index Lenses
Price Range
Finding Glasses that Flatter Your Face
While the information is readily available, it's surprising how few of the many glasses wearers know the guidelines for face shape and frame style. This is probably because we all are mostly concerned with what looks good on our own faces so the rest of the rules fall by the wayside. Because this article doesn't know your personal face shape, we'll cover all the basics.
Typically identified by a wide forehead and broad cheekbones which narrow down to the chin. Often considered one of the most adorable face shapes, heart-shaped faces are often best accented by round glasses that flare at the bottom like Aviators to balance the wide top of the face. However, almost any flared rounded glasses should look nice on your face.
If your jaw balances evenly with your forehead and cheekbones making a square, you likely have a square-shaped face. This face shape looks great with narrow oval glasses and other soft curves to balance the straight lines of your face. You can also choose to go the other way with rectangular frames to emphasize the square shape.
If your face is round, you will probably look best in a pair of frames that accentuates your cheekbones. Rectangular frames will create a nice contrast with the roundness of your cheeks and elongate the appearance of your face while wide-flared lenses will draw attention to your nice cheekbones.
If you have a tall, rounded face, you can rock almost any frames but may want to focus on either circular or rectangular frames to add a little shape contrast. If you want to make your face seem wider, look at wide-flared glasses with thicker temple decoration while narrow rectangular frames will draw attention to the length of your face instead.

Choosing Go-Anywhere Frames
Once you know what shape of glasses you need, the next major challenge is finding a pair that will look amazing no matter where you go. The good news is that you're not alone as most glasses wearers are in the same boat looking for a pair that will look just as good in the office as they will at a party. This means that for every bright red pair there are ten in muted colors and elegant designs.
Plastic frames are incredibly popular right now and are functionally quite versatile. While the majority of bulky, silly, and childish frames are in plastic, there are hundreds of classy adult styles that can go anywhere with you, even into weddings and opera houses, without looking out of place. Unless you know your work and recreational environments very well, stick with muted colors in the gold to brown range or very dark, subtle colors like maroon or dark blue.
Metal frames, on the other hand, are more like jewelry as the thin gleaming bands of metal will mesh well with earrings, necklaces, or cufflinks for the gentlemen. This gives you the opportunity to choose your favorite metal color, we all have one or two that look better on our skin than others, along with a possible mild color tint. The thinner frames and subtle gleam are classic and always elegant, meaning that metal frames are more likely to be acceptable everywhere but less likely to make a splash at specific events.
Making Sure Your Frames Fit Comfortably
Just like buying a new pair of shoes, it's vitally important that the glasses frames you choose fit comfortably on your face. You'll be wearing these for twelve to twenty hours a day and the last thing you want is a pair of frames that bruises, rubs the wrong way, or constantly slips off. When choosing frames, the example pairs won't be perfect but you'll need to talk to your optician about what can and cannot be adjusted about each pair. Make sure to get frames light enough not to press to hard down on your nose or ears, wide enough to set comfortably around your head, and shaped properly to work with your face. If you have a flat nose bridge, you may benefit from either metal glasses with adjustable nose pieces or 'Asian fit' frames (not just for Asians) which conform to the glasses design methods used on the eastern side of the world where flat nose bridges are the norm.
Lens Shape and Visual Quality

Your new high index lenses provide drastically improved visual clarity compared to normal plastic lenses, but the shape of your frames still makes a difference. It's important that the way the frames sit on your face puts the lenses exactly in front of your eyes with both the correct spacing out from the nose and the correct amount of peripheral vision. Your optician is trained to help you with this concern, which is why they make marks on the lenses of your sample frames noting where the center of your vision is. Make sure there isn't any visible (to you) space between the nose piece and the beginning of your inner-vision range and if your vision is particularly bad, wider lenses may help improve your peripheral perception.
Frames that are Suitable for High Index Lenses
High index lenses are incredibly thin but they are not actually any lighter than normal lenses. These two factors come together to slightly limit the size and style of frames you can choose with your new lenses. High-index-compatible frames tend to be in the small to medium range of sizes as the thin lenses will get lost in very thick frames. Those hipster librarian frames or super-huge sunglasses aren't ideal but a sleek pair of wide-lens cats-eye frames are just fine. On the other end, high index lenses often aren't thick enough for a wire-groove meaning that you'll have to check with your optician before getting your heart set on rimless glasses. Some high-index prescriptions can go rimless and some cannot.
Choosing in Your Price Range
Finally, don't be shy about asking your optician to help you stay within a specific price range. Glasses are a lot like shoes: the high-priced designer glasses work just as well as those on the budget rack and are often a little gaudy anyway. By looking only in the price range you can afford, you're sure to fall in love with a pair and then not regret the price tag afterward. If you're looking for a touch of class in a simple design, check out the temple decoration. A subtle engraving of something nice like vines or a watch face is often more elegant than the extravagant work on the designer frames.
Your new pair of high index eyeglasses should be with you for several years so choosing the perfect frames is nothing to shake a stick at. Take in your checklist and make sure that the pair you choose meets every one of your needs from facially flattering to high-index-compatible. When they're finally done, you'll be ready to rock your new thin lenses in style.