High-Index Eyeglasses For Children
A huge part of a child's development is ensuring he or she has healthy eyes. A child should have regular eye exams, and this is so important because many eye diseases and other eye problems can be prevented from becoming worse when they are caught early.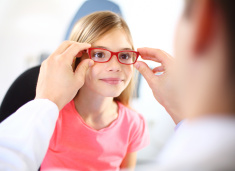 Visit To The Eye Doctor
When you are discussing your child's medical care, you should be sure to include eye exams. Some of the things that will be included as part of your child's eye exams are listed below:
When your child is a newborn, the eyes should be checked in one of the nursery rooms by the family doctor or the family pediatrician.
A newborn who is part of a family with a history of eye diseases or other eye problems will need to be seen by an eye doctor.
Whenever your newborn has a medical appointment, he or she should receive regular eye screenings.
As your child gets older and is found to need eyeglasses or contacts, he or she should receive eye checkups on a regular basis to ensure any changes in vision are caught in time.
Finding The Problems
There are various things that parents should look for when it comes to finding eye problems in their children. Some of those common signs are listed below:
rubbing one or both eyes on a regular basis
cannot stand to look at a significant amount of lighting
inability to focus clearly
red eyes
watery eyes
has trouble tracking an object or your fingers when you ask them to
inability to see things at a distance
eye squinting
sitting closely to the computer or television
If you think your child may have poor vision, you should not wait to do something about it. If you notice any issues, you should schedule an eye exam as soon as you can. When eye problems are spotted early, you may be able to save your child from having any serious eye problem. Some of the eye conditions that are examined in children can be corrected when they are discovered in time.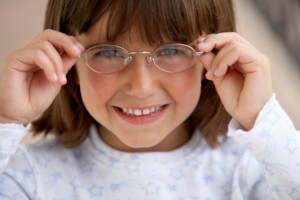 If it is discovered that your child has a serious eye problem, he or she may need to wear high index eyeglasses. Why? These eyeglasses are light and thin, and they will do a better job of helping your child see things clearly. These glasses are also great because they will not give your child the coke bottle look. They will have glasses that are comfortable to wear and appealing to the eyes.
If your child does have to wear glasses, here are some things to keep in mind when it is time to choose the eyeglasses:
Give your child the freedom to choose the frames that suit his or her personality and style.
In the beginning, your child may be a little uncomfortable at the thought of wearing glasses, but they will feel better when you let them choose the frames.
One of the popular lens types that many people wear is polycarbonate. Polycarbonate lenses are suitable for a variety of people, including children.
Polycarbonate can withstand heavy impact, and this is especially good for your child if you are worried he or she may be a little reckless while wearing the eyeglasses.
Wearing eyeglasses can be a tough transition for anyone to make, especially children. However, there are several ways to make wearing eyeglasses a cool thing. Many people wear eyeglasses, and your child should feel comfortable when it is time to wear them.
Whether it is high-index eyeglasses or a different type of eyeglasses, it is important to make the best decision for your child so he or she can see clearly and feel comfortable.