The Best Frames for High Negative Prescription
If you need to wear glasses, it is important that you find frames for high negative prescription that not only provide the best possible sight, but that is extremely comfortable on your face. You will be wearing these glasses for quite some time, so you want to make sure that you are using frames that best fit you and your needs. Breezing through this task can lead to poor eyesight, headaches, and frustration in the long run.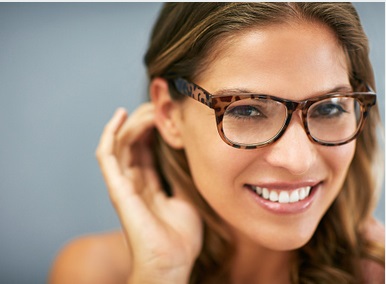 This is especially true if you have a high negative prescription. If you do need to wear glasses with a high negative prescription, you should absolutely take your time to find the best frames for you.
Without doing so, you may come across a situation where you need to concentrate on a certain task, yet your glasses feel extremely uncomfortable or ill-fitting.
We at Rx-Safety want to help you avoid that type of situation. Therefore, we created this article to help you find some of our best frames for customers with high negative prescriptions. This is just a sample of our available inventory.
But having said this, we believe that all of these frames will serve you quite well—whether this is your first pair of glasses or your not.
Some Terrific Frames for a High Negative Prescription
High negative prescription lenses, as you undoubtedly know, have several features that differentiate them from other lenses. For one thing, they are thin at the midpoint and thicker at the outer edges. This is the opposite of high positive prescription lenses, which are thicker at the midpoint and thinner at the outer edges.
Due to these differences, high negative prescription lenses can peek out at the side of the glasses while high positive prescription lenses can result in the well-known "bug-eyed" effect.
Because of these factors, we have selected several frames that will account for these factors and that will perfectly fit your high negative prescription lenses.
To start, let's look at frames from Geek. As you may know, Geek is one of the pre-eminent brands in eyewear today. If you are looking for frames for a high negative prescription, Geek eyewear would be a great choice. For example, Geek Sonoma Eyeglasses offer many benefits for those individuals with high negative prescriptions.
These glasses—which are designed for men—have thick plastic frames, which can better hide the thickness at the outer edges of the lens. They also contain round frames. Compared to rectangular or oval frames, round frames keep the lenses thinner.
Along with all of these benefits for those with high negative prescriptions, Geek Sonoma Eyeglasses have spring hinges and a single bridge. They are also stylish: available colors include black and demi.
Besides Geek Sonoma Eyeglasses, you may also want to check out the Lacoste L2844 Eyeglasses. This pair is for both men and women. Like the Geek Sonoma Eyeglasses, this pair of glasses are made of plastic and have a round shape.
Along with these important features for high negative prescription lenses, this is a full rim frame that includes a saddle bridge. As with all Lacoste frames, you will clearly see the famous Lacoste logo displayed on the temple.
Ultimately, the Lacoste L2844 Eyeglasses look great and are available in several frame colors. They include black/white/green/black, havana/rose, and blue/white/red.
From Lacoste, you may be wondering whether Nike offers any frames for those with a high negative prescription. You're in luck. In our collection, you can find the Nike 5513 Eyeglasses.
This particular pair of glasses has an occipital fit temple design and features Nike's signature spring hinges for added durability.
The model also comes in several fun and sporty colors, allowing you to inject your personality into your eyewear. Frame colors include black/green/crystal, black/volt, blue, navy/hyper jade, and concord/fuchsia.
Whether you are wearing these glasses for work or are simply wearing them around the house, you will be well-served by picking up a pair of Nike 5513 Eyeglasses.
Women with a high negative prescription may want to check out our Kate Spade collection. As just one example, one frame for women with high negative prescriptions is the Kate Spade Jackalyn glasses.
To start, this is a full-frame that is made of acetate plastic. As mentioned above, plastic frames better hide the thickness of your lens, as compared to other frame materials.
And like the frames mentioned above, the Kate Spade Jackalyn model features a round shape. A single bridge on these frames makes them extremely stylish. Lest we forget, this frame also includes the famous Kate Spade logo, which is prominently displayed on the temple.
Along with the Kate Spade Jackalyn model, women may also want to consider Geek New Yorker Eyeglasses. While all of the glasses in this article are stylish, this pair is especially stylish. The frame comes in three colors: demi brown, demi pink, and demi yellow.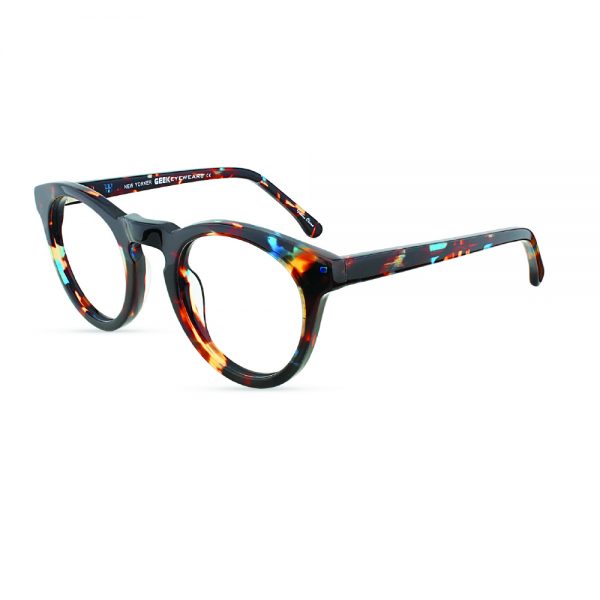 These color names don't do the pair justice, though. Looking at these frames, you can immediately tell that these glasses make a statement. They can help you stand out from a crowd, whether you are at work or at the bar on a Friday night.
Beyond pure aesthetics, however, these frames are terrific for women with a high negative prescription. This is because, once again, these are round frames that are made out of plastic material. There is a single bridge on this frame and you can clearly see the Geek logo.
Find Your Perfect Pair
Ultimately, this is just a selection of our frames that cater to men and women with high negative prescriptions. We invite you to explore our entire collection. When doing so, however, we encourage you to look for several attributes to find the best frames for high negative prescriptions.
First, make sure to keep the lens size of the frame. As we have discussed ensure that you are targeting round frames over oval or rectangular frames. Next, make sure to use thick plastic frames.
While you may think that you will want some thinner frames, thick plastic frames actually help you hide the thickness of the lenses better than other materials.
From there, make sure that you are not selecting rimless or semi-rimless frame styles. These styles easily display the thickness of your lenses, so you will want to select styles that can more easily mask this thickness. Search for wide temple bars.
They can also play a large part in hiding the thickness of your lenses. And last (but not least), avoid wraparound frames. These frames not only typically have huge lenses, but they tend to cause distortion.
On our website, you can easily filter through our collection. Therefore, feel free to target these attributes using our filtering option. By doing so, you are sure to find a pair that is not only functional, but that speaks to your own sense of style.
These are just some tips to help you find the best frames for you. If you have any questions about high negative prescription lenses or the best frames for your lenses, don't hesitate to contact us.
If you reside in the United States, call (888) 245-6638. If you reside outside the United States, feel free to call (732) 356-1493. We look forward to hearing from you!