Do You Need High-Index Eyeglasses After Your Diagnosis?
If your eyesight is very bad, you will probably think you will be required to wear a thick pair of eyeglasses with thick lenses. However, not everyone loves wearing a thick pair of eyeglasses. People usually refer to thick glasses as "coke bottle glasses". However, there are new solutions to those style of glasses.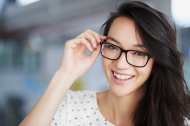 Do you want eyeglasses that are thin and light? Do you want eyeglasses that are not only attractive but comfortable as well? Well, you can get all of these qualities in high-index eyeglasses. 
Due to technology, these lenses are designed to provide a lighter, thinner, and comfortable feel than the traditional pair of eyeglasses. When you purchase high-index lenses, you will like the way you look, regardless of what style of frames and color you choose.
These eyeglasses are definitely recommended for anyone who has been given a strong prescription for conditions such as astigmatism, myopia(nearsightedness), and hyperopia(farsightedness).
High-index eyeglass lenses that are made with scratch coating will be less prone to scratches and these lenses also provide great protection from any type of impact and sunlight. If you think you are going to be at a higher risk for getting an eye injury because of the things you do on a daily basis, high-index eyeglasses are a great option for you.
Thin Lenses
High-index lenses has the ability to bend better than some other eyeglass lenses. For those who need high-index lenses to treat nearsightedness, they will find that these lenses have much thinner edges than the eyeglass lenses made of traditional material. For those who need high-index lenses to treat farsightedness, they will be glad to know that the center of these lenses is thin.
Lightweight
When you have thin glasses, the material of the glasses will not be made from as much material as other glasses. This means the weight of the glasses will be very low. When your glasses are thin and light, they will be more comfortable to wear than the eyeglass lenses that are made of heavier materials.
High-index lenses will be more beneficial to the eyeglass wearers who have been diagnosed with farsightedness. For those who are worried about their eyeglasses making them look as if their eyes are sticking out of their head, you will not have this problem when you wear high-index lenses.
What Benefits Will You Get From Wearing High-Index Lenses?
Your glasses will actually fit into your eyeglass frames. You will not have to worry about people seeing your lens sticking out of your frames.
You will have a more stylish and chic pair of glasses than you would with the traditional pair of eyeglass lenses.
You will not have to worry about constantly taking your glasses on and off your face because of the uncomfortable fit. Glasses made with high-index lenses will give you a comfortable fit.
High-index lenses will give you great protection from UV.

There is a large selection of high-index eyeglass lenses available to choose from. Some people may think they will be limited to the style and color of eyeglasses and the frames due to their diagnosis.
However, high-index lenses are greatly effective for the prescription you have been given. Although high-index lenses may reflect more light than your previous lenses, you can always make sure that you have a coating on your lenses that is known as anti-reflective(AR) coating.
If you know you need eyeglasses, but you are worried about the style and look of the eyeglasses, you should ask your eye doctor about high-index lenses. You may be surprised at how comfortable and thin they are. You may like these lenses and frames so well that you will want to purchase two pairs of high-index eyeglasses.