Cheap high index glasses
We offer an array of glasses prices to accommodate everyone's budget.  For high index lenses we offer the Equinox EQ215 Glasses at $8.80, our lowest price frame for high index lenses.  That price is the frame only.  The Equinox EQ215 is a brown, metal, rectangular frame that offers spring hinges.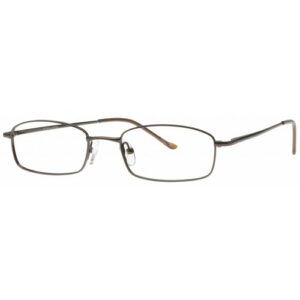 When selecting the "Material" you want for your frame we offer the 1.67 high index lenses which is a great choice if you're trying to save money when ordering your high index lenses. They have relatively low optical distortion for high index lenses, and they offer the thinness, scratch resistance, and aesthetics you'd want from high index lenses without an outrageous price tag. They are not as thin or lightweight as higher index lenses, but they are a good choice for high index lenses for medium-strong prescriptions for a lower price.
Don't forget that if you are nervous about whether or not you will like the frame, we offer a buy frame only program which allows you to buy the frame without lenses to try on.  If you like the frame simply send back with your prescription and we will make them for you.  If you do not like the frame then return for a full refund…simple as that!  Any question, our friendly customer service reps are always here to talk you and go though any questions you may have.  So give them a call at 855-463-5177.
Stay fabulous!
Jessica xo